NFL #1 pick Cam Newton (Carolina Panthers) was featured in GQ for July 2011.We get to see the potential superstar off the field and enter the world of fashion,this photo shoot focused on upcoming fall trend the bold-striped sweater.What do you think?
Sweater, $1,080 by Marc Jacobs. Shirt, $80 and tie, $80 by Brooks Brothers. Pants, $490 by Bottega Veneta. Belt by J.Crew. Sneakers by Under Armour. Watch by Hamilton.
Sweater, $450 and pants, $550 by Dolce & Gabbana. Watch by Oris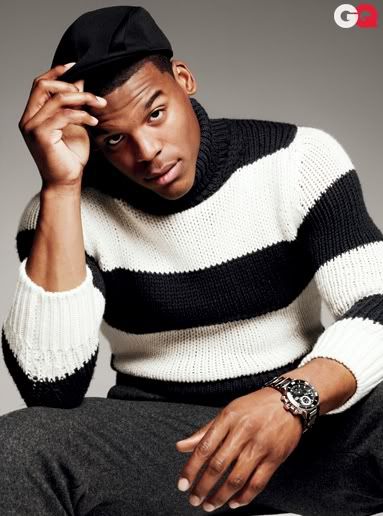 Sweater, $364 by Closed. Jeans, $64 by Levi's. Watch by David Yurman. Sunglasses by Dolce & Gabbana.