Dwyane Wade(Miami Heat) has definitely been expressing his love for fashion this past week by attending a couple of designers shows in Milan, Italy.Dwyane has to be one of the best dressed athletes in the world today,we see him all the time during post-game interviews showing how stylish he is. Check out these great looks of him during Milan menswear fashion week spring/summer 2012.
Versace fashion show

This look is smooth, love the shiny tailored suit,navy framed shades, and just a simple button-down with a open collar, very polished look.
Knicks star Carmelo Anthony also made a appearance, the duo looks dapper.

Enjoying the show from the front row, nice.

DSquared2 fashion show
Has to be my favorite look from Dwyane this week, its urban, fresh, creative, so many words to describe it. From the sky blue blazer, to the colorful pocket square, expressed style, and the destroyed denim jeans and high top white sneakers kept the look young.
AmfAR Inspiration Gala
GQ look by Dwyane during this event. I'm enamored by the navy button-down draped by a black blazer, and the polka dot bow tie gives it the preppy taste.
Louis Vuitton Menswear
Best way to wear a blazer is to roll up the sleeves like Dwyane does here, gives it that swagger. I also like the two-tone V-neck with his suit, its something new I would probably attempt.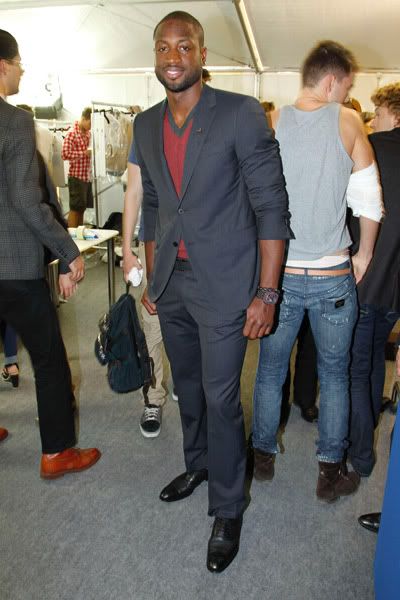 Dwyane Wade and Rapper Kanye West backstage.