While watching Miami Heat Dwyane Wade and Lebron James post-game interview yesterday,I really liked there looks. I'm also Happy that Miami is headed back to the NBA Finals, YesSSSSS!!!
I'm not that big of a soccer fan, But I've notice Lebron has been sporting a lot of Liverpool FC gear recently.During his interview he was sporting the Official LFC Vico Jacket. Its a pretty cool jacket. I also did a little research and saw that Lebron has a Minority stake with Liverpool, after getting a deal with the Club U.S. Owner. No wonder Lebron has been Modeling/Marketing there gear, smart business man.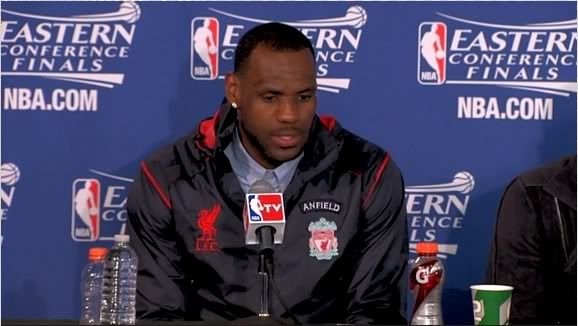 Dwayne Wade, his style is just so sleek and he is very consistent with it as you can see if you check out prior posts on my blog. I can't keep my eyes off his suede black moto jacket I'm just so fond of it, and to wear it with a solid Royal Blue tie, and stripe button-down w/solid collar, very creative.