I enjoyed the Espys Awards last night,It was very entertaining and full of triumphant stories,but I love the Espys because I get to see the fashionable side of the athletes throughout the show,here are some of my favorite looks of the evening.
Blake Griffen (L.A. Clippers) and Landry Fields (New York Knicks) had very similar 3-piece suits for the evening, who wore it better?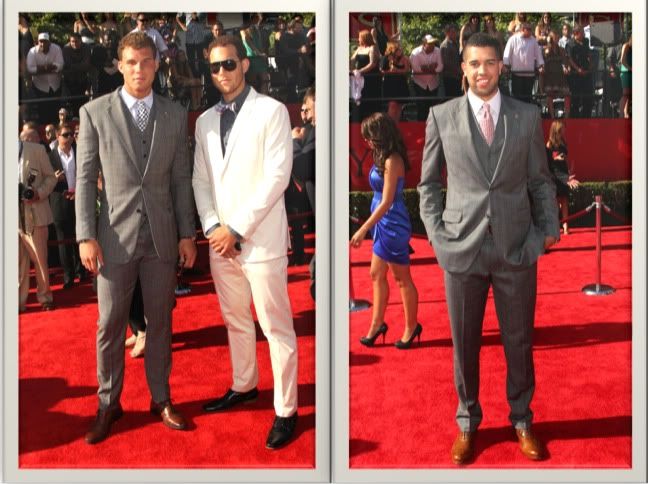 Tyson Chandler (Dallas Mavericks),I'm fond of his big bow-tie, one of my favorites.

Lindsey Vonn (Skier) and Danica Patrick (Indy driver) dazzling dresses were definitely eye-catchers for the night.

Serena Williams (Pro Tennis) look was very sexy, plain and simple. she looked great in her hot pink Rachel Roy 'Orchid' jacket dress which she paired with Christian Louboutin gold glitter heels.

Brian Wilson (San Francisco Giants) stole the show in his eccentric spandex suit, umm wow.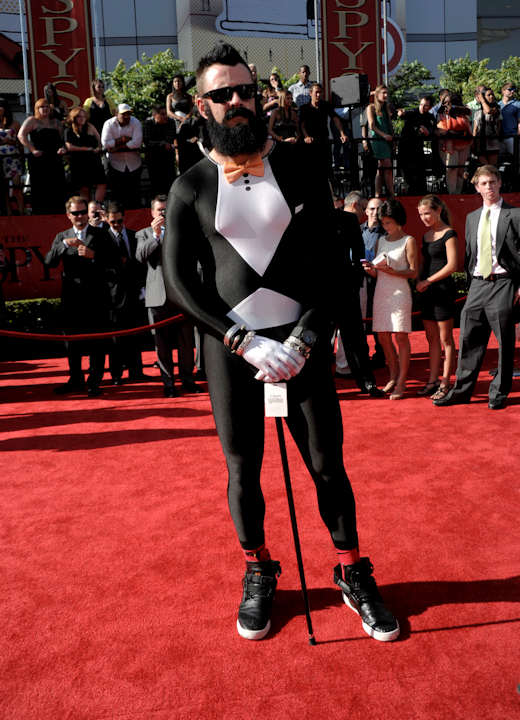 Arian Foster (Houston Texans)had a preppy appeal for the evening, from his fashionable glasses, to his bright red bowtie and navy tuxedo style suit, his outfit was on-point.

Maria Sharapova (Pro Tennis Player) navy Alexander Mcqueen halter dress was elegant.

Amar'e Stoudemire (New York Knicks) went for a 80's theme with his gold rope chain, tuxedo blazer and v-neck, sleek.

Shawn Marion put together a terrific array of colors in his outfit,smooth white loafers.

Matt Barnes (L.A. Lakers) plaid tailored suit and just a open collar did justice.

Evan Longoria (Tampa Bay Rays) had a swanky look to him, I love the hunter green blazer.

Joe Johnson (Atlanta Hawks) beige suit looked excellent with his plaid shirt and solid tie.Pairing his ensemble with Nike white "air force one" sneakers, didn't look bad, but I would rather keep it formal with shoes.

John Wall (Washington Wizards) looked spiffy,his black pattern blazer went well with a gold tie, and white slacks, great choice John.